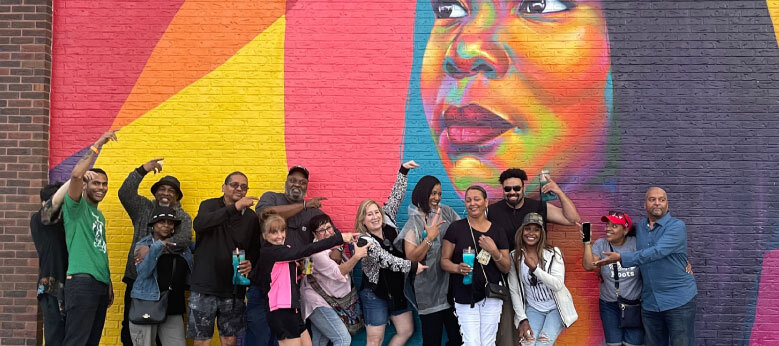 Architecture, Murals and Art
This private tour cruises down the streets of Buffalo to explore our history of art and architecture as you sip on your favorite beverage. This tour is popular for corporations taking out of town employees and for family reunions. The bike takes up to 14 with 10 pedal stations.
Art and Architecture Tour bike includes:
Guide/Driver
Two Hour Trip
Bring your own drinks and food
Blue Tooth Sound System
Free Souvenir Photos
Free Paved Street Parking
Next to the Seneca Nation Casino
SEE, TOUCH AND SMELL THE WORLD CLASS ART AND ARCHITECTURE TOUR IN BUFFALO, NEW YORK
Learning about art and architecture does not get any cooler! Picture this. You and your guest are sipping on wine and eating a delicious treat while you slowly pedal pass over 20 important examples of late 19th and 20th century architecture on our custom made pedal bike.
We have created a tour that will turn you and your friends into architecture and Buffalo history geeks by using humor and historical facts. During the tour you will learn about the formation of Buffalo, the history behind its famous landmarks and the legacy that made Buffalo what it is today. Residents of the city who may have driven by a building everyday will get to learn about them. Even seasoned Buffalo history buff's will learn interesting information that we they can add to their knowledge base.
See the formidable McKinley Monument and Buffalo City Hall, The Guaranty Building, Saint Louis Church, the Market Arcade and many other buildings from distinguished eras in architectural history and from the great minds of creative geniuses. The bike travels at the perfect speed for riders to take photos and we will go inside some of these buildings to learn more & explore.
Book a seat for only $39.99. A minimum of 10 seats must be booked for a tour. Do you prefer a private trip? Hold that special date and time with a $199 deposit. Book the Architectural Gems Tour with your friends and family and learn about the magnificent buildings and history of Buffalo. Bring as large or small a group as you like. It's also a perfect corporate outing for times when you can not go to bars. With these tours we make one stop, a bit of a halftime break at a coffee shop or pub. Please reach out to us if you have any other questions.
PEDAL TOUR GALLERIES
Sit back and spend some time visiting with the people in our collection of trip memories. In these photos you will feel the fun that that is experienced on our bike trips.
The pictures will also give you ideas of foods to enjoy and signs to create to make your unique trip.
In these photos you will see that our bikes all sorts of groups including families, friends and coworkers.
They are enjoyed by the folks of all ages. We are confident your trip's photo will fit in nicely in our gallery.
PEDAL TOUR FAQ'S
Planning a trip can be stressful. It takes time and effort. We welcome you to use our FAQ pages as a quick resource for answers about our bike trips.
There you will find out where the trips start, what to can and can not bring to drink, what the the trips cost and answers to lots of other questions.
If you prefer to speak to a live person to get an answer or run by some ideas we are always available to answer questions on the phone and email 24/7
We are here to help you make planning fun and easy.