You're halfway through your first mimosa at brunch with your newly engaged best friend. She is grinning ear to ear then finally drops the question you've been secretly anticipating since you made plans last week. "Will you be my maid of honor?" Once the tears, squeals of excitement and ideas for DIY centerpieces begin to subside, you're hit with the realization that you are solely responsible for the most important part of the pre-wedding events: the bachelorette party.
Now let's address the elephant in the room, planning a night with girls you aren't all that close with is next to impossible. Sharon doesn't drink, Becky is afraid of clubs, the Bride's third cousin (what was her name again?)is super conservative and Karen is a total control freak. Never to fear, Buffalo Pedal Tours is here with bachelorette party ideas even Karen will approve of.
5 Tips for Planning a Fun & Epic Bachelorette Party
1. This Is About The BRIDE. Make Her A Queen
I promise your day will come, but this isn't it. It's about the BRIDE, so make it known! Dress her up with ribbons, a flashy veil and glamorous bride-to-be sash. What else do queens love? Being served & pampered. Let's face it, we've all dreamed of attending exclusive parties like those fancy women in Sex and the City. Places like Hartman's Distillery have all bells and whistles to make your bachelorette party feel like movie stars. What's better than lounging under the stars sipping champagne you don't even need to stand up for? If that doesn't interest you, I'm sure their mouthwatering burger selection and late night menu will draw you in after a few hard seltzers. Skip standing in line, reserve in advance! You know you won't break in those summer sandals before the party. Your feet will thank you! Make the night unforgettable! Try bottle service at Soho.
2. 'What's The Occasion?' – Nobody Within A 10mi Radius Should Be Questioning What You Are Celebrating; You'll Need Banners & Awesome Matching T-shirts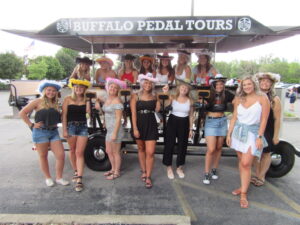 To make finding props for the big party I made it easy search Pinterest and  Esty for ideas and sources.
I can almost guarantee your lady of the hour has been waiting for this day since she was 5 wearing toilet paper on her head as a veil, so make sure everyone knows this lovely lady has finally met her prince charming. How? Pedal bikes/boats are cool, but they look even cooler decorated with a huge custom banner that screams 'bachelorette party.' These are super easy to order online, however somehow the dimensions are always different in real life than what is advertised on the website. So if you're not willing to take that risk, there are several custom banner shops around Buffalo that will be more than happy to help you out! Don't want to spend hours trying to figure out what to wear? You're in luck! Places like this also usually offer custom t-shirt options. Plus, you're never too old to wear matching outfits with your friends.
3. Everything.…. Tastefully

You've spent hours on Instagram looking at pictures of other people's SO CUTE night out, well now it's their turn to be jealous of your handy work. First of all, chose a theme and stick to it. Luaus and 20s themed are great ideas, but not together. Decorate your bike or boat with mood lights and colors that compliment your theme for those insta worthy pics you always wish you were better at taking. Don't stop there! If your evening is continuing past the conclusion of the tour, make sure whatever you're doing after looks just as amazing! Pinterest, dollar general and 5 below will be your weapons of choice for this one.
4. Accessorize Your Party with Games & Props.

Ever do a scavenger hunt as a kid? Turns out they are just as fun (if not more) as adults! It's always fun to break up the night by talking to strangers and getting them to take ridiculous pictures with you. If you don't have time to think up an epic hunt, you're in luck! Lots of party stores, dollar stores and even Amazon sell card packs with different challenges/ hunts you and your friends can enjoy. In addition to games, props like scandalous shaped straws (use your imagination here), funny mustaches, hats and things that glow in the dark are easy add ins that add an extra something to your already awesome night.
5. The Most Important Tip: DON'T DRINK & DRIVE!
It is 2023 and we have the world at our finger tips, and that includes access to rides that are ready faster than you can find your keys. This night is about your bride to be and should not be remembered as the day you tried to drive home after the bar!