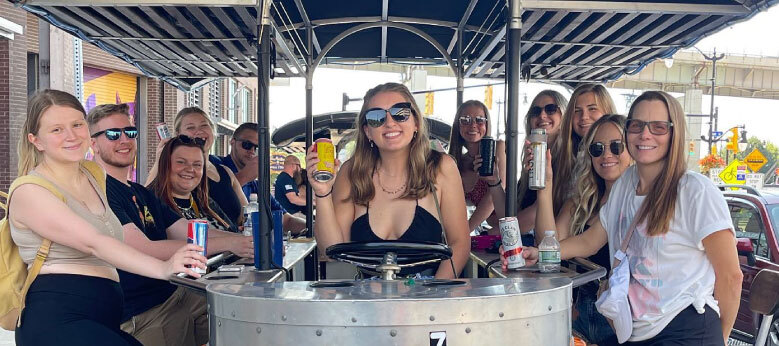 Canalside Birthday Bar Crawl
The birthday bar crawl bikes can take up to 15 passengers. Lock in your date and time with a 50% deposit. Balance due 30 days from your trip. Groups can book up to four bikes.
All trips last two hours. The bike stops at two to three bars, breweries, and distilleries. The price includes use of the bike, driver, photos, trash removal and sound system.
Guide/Driver
Two Hour Trip
Bring your own drinks and food
Blue Tooth Sound System
Free Souvenir Photos
Free Paved Street Parking
Next to the Seneca Nation Casino
GET YOUR FRIENDS TOGETHER AND EXPLORE THE BARS AROUND CANALSIDE IN BUFFALO, NEW YORK ON OUR 14 PERSON PARTY BIKE!
Cruise the streets of Canalside Buffalo and enjoy our waterfront bike pedal tours. Buffalo boasts an eclectic array of bars, pubs, and lounges that cater to craft brew enthusiasts and tavern traditionalists. Whatever your brew style, you'll find new haunts, restaurants, and beer gardens to enjoy when you pedal the town with us. Places we recommend include the Pizza Plant Brewery, Southern Tier Brewery and Hofbrauhaus .
We regularly host pedal pub crawls for groups of friends, families or business associates. While on the bike You play the music on our Bluetooth sound system!
We love Buffalo and our canal area continues to be a vibrant part of town that's filled with excitement and trend-right attractions. A pedal bike tour gives groups the opportunity to hang out together in a fun-filled part of the city that offers so much to explore. We have been biking the area for nine years now and the fun never gets old.
Hold the date with a 50% deposit. Balance paid 30 days before your trip. Book Your Pedal Bike Pub Crawl Tour Along Canalside Today!
The tours is two hours long during which we stop at two to three cool bars. We encourage you to decorate the bike for your special occasion. For night tours, you can take in the awesome light show on the grain silos. We'll do our best to accommodate your group's needs and look forward to being your DD!
Sit back and spend some time visiting with the people in our collection of trip memories. In these photos you will feel the fun that that is experienced on our bike trips.
The pictures will also give you ideas of foods to enjoy and signs to create to make your unique trip.
In these photos you will see that our bikes all sorts of groups including families, friends and coworkers.
They are enjoyed by the folks of all ages. We are confident your trip's photo will fit in nicely in our gallery.
Planning a trip can be stressful. It takes time and effort. We welcome you to use our FAQ pages as a quick resource for answers about our bike trips.
There you will find out where the trips start, what to can and can not bring to drink, what the the trips cost and answers to lots of other questions.
If you prefer to speak to a live person to get an answer or run by some ideas we are always available to answer questions on the phone and email 24/7
We are here to help you make planning fun and easy.