Are you or your maid of honor looking for fun and new ideas for an upcoming bachelorette party?
Well here's how you can do that and more, making the bachelorette party and night, one to remember.
5 Tips To Throw A Successful Bachelorette Party
Select A Creative Bachelorette Party Theme – Find a creative theme that everyone can participate in (also one that the bride will enjoy most) and run with it. Whether you are all dressed as Barbie dolls or you all dress as country girls, to throwing it back to an 80's style-theme, have fun with it and go all out!
Have A Scavenger Hunt – This is the perfect way to keep all those in the party involved. Lay out ground rules that could be related to the theme, and make sure everyone is cool with the scavenger hunt's objectives. Take cool pictures with strangers or find a way to dance on top of the bar. Those who complete the hunt can get an award and, in the end, everyone wins.
Use Props – What's a party without props? Find unique and interesting props to carry around that can make you feel like a celebrity. Make a cool tiara for the bride or a sash she can wear around all night.
Include The Bride – Making her feel special on this night is of the utmost importance. Group dances of her favorite songs, shots with her at the bar. Get the bar crowd in on the fun and make sure she knows how much it means to be in on the bachelorette party and her last night as a single woman.
Take Your Party On A Pedal Tour – Be safe and secure on your travels by scheduling a tour on Buffalo Pedal Tours. Play your own music, bring food and drinks, and you can show your out-of-town friends around the great city as well!
What are you waiting for…? Do you want to celebrate with the bridal party and more at the awesome bars around downtown Buffalo?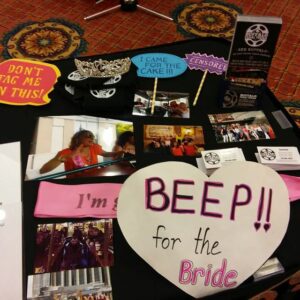 Book your Bachelorette Party early, so that everyone you invite can join and with the tips from above, the unforgettable night can be a success.
For more information or to book a tour, contact Buffalo Pedal Tours at 716-984-3834 today!